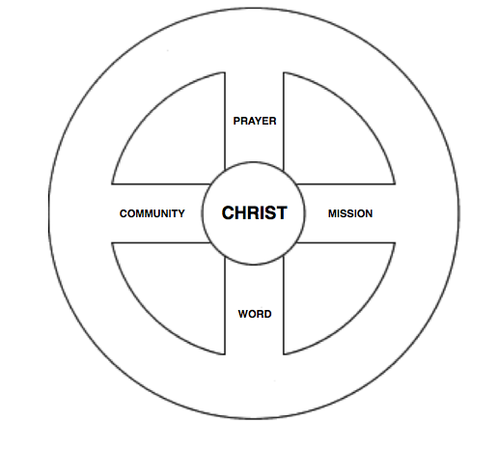 The goal of these groups are to encourage one another to love God wholeheartedly and to love our neighbors sacrificially. (Matthew 22:36-40; Matthew 28:18–20)
Discipleship Group Covenant
3-6 disciples from Compass Church, of the same gender, who covenant together to encourage one another to love God wholeheartedly and to love our neighbors sacrificially by helping them to find and follow Jesus. (Matthew 22:36-40; Matthew 28:18–20) The questions will revolve around helping each other grow in the
Word
,
Prayer
,
Community
and
Mission
. Discipleship groups are committed to meet for one semester then re-evaluate.
With God's help, I will seek to:
Meet with my group for at least one hour every week, unless genuinely hindered.
Contribute to an atmosphere of confidentiality, honesty, openness and encouragement.
Give and receive scriptural correction from other members of the group.
Be held accountable for the goals I set for myself in the context of this group.
Pray for the other members of the group.
Start praying about who I could replicate this process with.

Connect - What is a high and a low for you personally from this week?

Apply - What stood out from your personal time with God in the Word or this week's sermon that you'd like to apply to your life?
(Optional: If the leader has a Bible passage, lesson or other resource, discuss it now.)

Review - Who might God be asking you to encourage or share the gospel with and how will you?

How did you do with your growth goals? Any new goals this week? Write them down. (Possible categories: Bible, prayer, community, mission, other personal goals.)

End With Prayer - What happened with last week's prayer requests? How can we pray for you this week? Pray for each other.